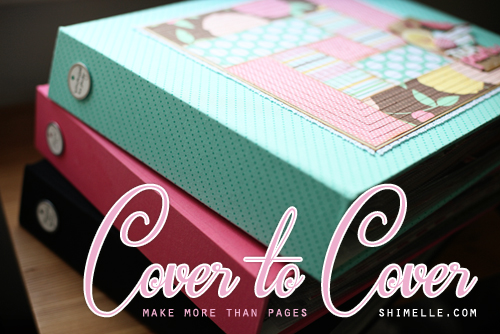 Yep, I've done it again and signed up for some more classes. This particular post will talk about Cover to Cover by Shimelle Laine. The class officially start on May 7th and runs through June 3rd. I signed up through early bird registration during Shimelle's April 13-15 crop. It was taking a little bit of a chance. The class hadn't been officially announced yet. Shimelle gave us just a hint that the class would focus on albums. I decided to go for it. Shimelle does such awesome classes that I figured I would just jump in and go for it. Boy am I glad I did! Already there is great pre-class content posted. This class is going to help me address one of my biggest problems: my scrapbook albums.
Currently, my pages are in a bit of a disarray. I have completed pages in scrapbook storage boxes, some are in albums, some digital pages are just sitting on my hard drive. I have albums that are chronological, and others that are topic/subject driven. Some are labeled, others are not. I have post bound and ring bound albums---an absolute mishmash! I don't scrap in any kind of order really--I prefer it that way. I get burnt out doing chronological based scrapping. This method of scrapping is exactly what has led to my album mess.
As far as albums, I have discovered that I much prefer using ring bound albums. The American Crafts albums are great, although I covet the We R Memory Keepers albums. All of the albums I have purchased in the last year or so have been one of the two. I have easy access to the AC albums and they cost less. These are the ones that I have the most of, although when a coupon and access permits, I will spring for WRM albums in the future.
The funny thing is that my completed pages hardly ever get looked at. It's a combination of things really. The biggest issue is the lack of a true system to my albums. I've worked on this a little and have a very basic foundation that, in the long run will work for me. At present time though, this foundation needs to be adjusted, tweaked, and to some extent overhauled. I mean, what's the point in preserving the memories if the pages/albums just sit there?
My goal in this class is to come out the other side with organized albums that are easy to add to, look at, enjoy, and keep organized. In addition, I want to KNOW what I've already scrapped and where the holes are that need to be filled. I don't want boxes of photos and digital folders of unprinted photos---I want albums full of pages that showcase the photos with words that tell the stories.